Displaying 15 - 17 of 17 items
DICKENS CABINET PHOTO
DICKENS, CHARLES.  (1812-1870).  English novelist.   An attractive cabinet size photograph depicting Dickens in a full length pose, standing aside a desk, and holding a book in his hands.  
$225.00
Full Description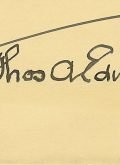 WONDERFUL SIGNED SEPIA-TONED PHOTOGRAPH OF THOMAS EDISON
EDISON, THOMAS A.  (1847-1931).   American inventor.   Handsome, sepia-toned Photograph Signed, "Thos A. Edison", with his bold umbrella paraph, under his image, on the photographic surface.
$3250.00
Full Description
ATTRACTIVE SIGNED QUARTO PHOTOGRAPH OF FRANKLIN D. ROOSEVELT
ROOSEVELT, FRANKLIN D.  (1882-1945).  President of the United States.  Attractive Quarto Photograph Signed, "Franklin D. Roosevelt", (probably as President) to the right of his image.  He is depicted in a full-face, bust pose, gazing benevolently at the viewer.  Very fine condition.   
$1000.00
Full Description