Displaying 1 - 3 of 3 items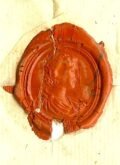 JOHN QUINCY ADAMS  ~~ 

REGRETS HE CAN NOT HELP WITH THE APPOINTMENT OF THE US COUNSUL TO BORDEAUX
ADAMS, JOHN QUINCY.  (1767-1848).  Sixth President of the United States(1825-9); Secretary of State; diplomat and lawyer. Scarce Autograph Letter Signed, "John Quincy Adams", while serving as Minister to Prussia, in his father's [John Adams'] administration.  One fairly full page, quarto.  Berlin, May 31, 1800. 
$5000.00
Full Description
GLADSTONE COMMENTS ON THE WINE DUTY
GLADSTONE, WILLIAM E.  (1809-1898) British Liberal statesman and Prime Minister (1868-74, 1880-85, 1886 and 1892-94). Autograph Letter Signed "W Gladstone", as Chancellor of the Exchequer.  2 pages, octavo. April 11, 1853. 
$295.00
Full Description
THE PIONEER BOTANIST, AND AGRICULTURALIST — LUTHER BURBANK — RECALLS READING THE "YOUTH'S COMPANION" WHEN NINE OR TEN YERAS OLD AND LAMENTS HE HAS LITTLE TIME TO WRITE ARTICLES FOR THEM, NOTING: "THE MAKERS OF HISTORY SELDOM WRITE IT"
BURBANK, LUTHER (1849-1926) American botanist, horticulturist, and a pioneer in agricultural science. Typed Letter Signed, "Luther Burbank," On his name-imprinted "Burbank's Experiment Farms" letterhead. One full page, small quarto. Santa Rosa, California. January 17, 1905.
$895.00
Full Description