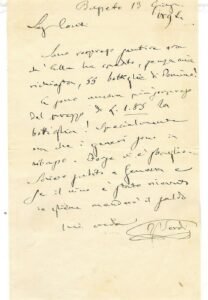 VERDI QUESTIONS THE INEXPLICABLE ARRIVAL OF "55 BOTTLES OF ROMINO!" AT THE OUTRAGEOUS PRICE OF 1.85 LIRA!
VERDI, GIUSEPPE. (1813-1901).  Italian composer; between 1842 and 1853 he was credited with writing a new opera every year, some of immense popularity as his operas related tales in which people's private and public lives came into conflict; his masterworks include: Rigoletto (1851), Il Trovatore (1853), La Traviata (1853), Don Carlos (1867), and Aïda (1871).  Attractive Autograph Letter Signed "G. Verdi". One page, octavo. [Bugereto?], Italy June 13, 1894. Very fine condition. With original transmittal envelope addressed in Verdi's hand. To the company "Fratelli Conti / Negozianti di vino etc" in Florence.  Verdi writes:
"I am surprised to hear now that you have sent me, without my request, 55 bottles of Romino! And I'm even more surprised by the price of L. 1.85 the bottle!".
He then goes on to add that he can get the same quality in Geneva.  A fine letter for the lover of opera, and wine.                                           
$2400.00