Displaying 1 - 2 of 2 items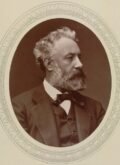 JULES VERNE REFERS TO THE SECOND ATTACK OF FACIAL PARALYSIS [BELL'S PALSY] WHICH AFFLICTED HIM THROUGHOUT HIS LIFE, AND FOR WHICH HE SOUGHT TREATMENT BY ELECTRICAL STIMULATION
VERNE, JULES (1828-1905) French author;  pioneered the science-fiction genre;  best known for his novels: A Journey to the Centre of the Earth (1864), Twenty Thousand Leagues Under the Sea, (1870), and Around the World in Eighty Days (1872). Uncommon Autograph Letter Signed, "Jules Verne," in French.  One full page, octavo.  "Boulevard Bonne, Nouvelle 18". Paris,  Thursday, February 15th, no year. [1855].
$3250.00
Full Description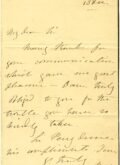 A RARE LETTER OF MARY SHELLEY  ~~ THE AUTHOR OF 'FRANKENSTEIN'
SHELLEY, MARY (1797-1851) British novelist, short story writer, dramatist, essayist, biographer, and travel writer. Shelley is best known for her Gothic novel: Frankenstein: or, The Modern Prometheus. Rare Autograph Letter Signed, "Mary Shelley." One page, octavo.
$9500.00
Full Description