Displaying 8 - 9 of 9 items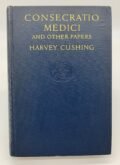 HARVEY CUSHING, THE PIONEERING NEUROSURGEON, SIGNS AND INSCRIBES A COPY OF HIS: "CONSECRATIO MEDICI AND OTHER PAPERS"
CUSHING, HARVEY (1869-1939) American neurosurgeon and pioneer of brain surgery. His book, Consecratio Medici and Other Papers. Boston. Little, Brown, and Company. 1929. Fourth printing. Signed on front free end paper: "With the sincere regards of Harvey Cushing." Blue cloth cover with gilt lettering and blind embossed publisher's device stamped at center of upper board. 276 pages, octavo.
$1250.00
Full Description
ONE OF THE RAREST SIGNATURES IN ALL OF SCIENCE!  —  SIR WILLIAM HARVEY
HARVEY, WILLIAM (1578-1657)  English Physician; made influential contributions in anatomy and physiology; was the first known physician to describe completely, and in detail, the systemic circulation and properties of blood being pumped to the brain and the rest of the body by the heart.  An impressive, and excessively rare Manuscript Document Signed, "Will Harvey".
$52,500.00
Full Description