Displaying 1 - 2 of 2 items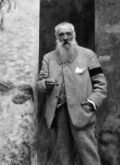 CLAUDE MONET  ~~  ON THE CUSP OF ACHIEVING GREAT SUCCESS AS AN ARTIST,  WRITES:  ~~  "NATURE IS ALWAYS BEAUTIFUL AND IT'S ONLY IN THE WORK THAT IT IS POSSIBLE FOR ME TO FORGET ALL MY WORRIES BECAUSE I AM STARTING TO NOT BE A BEGINNER ANYMORE…"
MONET, CLAUDE.   (1840-1926).  Founding member, and leader in French Impressionist painting movement;  the term: 'Impressionism' is derived from the title of his painting:  Impression, Sunrise.  A sad and somewhat melancholy, yet important, Autograph Letter Signed, "Claude Monet," in French.  3 full pages, large octavo. Vétheuil,  December 30, 1878,  To his patron and collector, Georges de BELLIO. 
$9500.00
Full Description
PRESIDENT JOHN ADAMS IN THE WAKE OF THE "X,Y,Z AFFAIR" ADDRESSES THE CITIZENS OF HAMILTON, MASSACHUSETTS:   
"DURING MY ADMINISTRATION;  THE ZEAL TO CONVINCE THE WORLD, THAT WE ARE NOT A DIVIDED PEOPLE;  THEIR OFFER OF THEIR PROPERTY AND LIVES, TO SUPPORT THE HARD-EARNED LIBERTY OF THEIR COUNTRY; AND THEIR CONFIDENCE UNDER HEAVEN, THAT WE SHALL BE ABLE TO WITHSTAND THE MOST POWERFUL EFFORTS, AND MACHINATIONS OF FOREIGN OR DOMESTIC ENEMIES"
ADAMS, JOHN.  (1735-1826).  Second President of the United States, Signer of Declaration of Independence.  Exceedingly choice Manuscript Letter  boldly Signed, "John Adams", as President, just days after making the details of the 'X,Y,Z Affair' known to Congress.  One full page, small quarto.  Philadelphia,  May 19, 1798.  To: 'The Inhabitants of: The Town of Hamilton in the State of Massachusetts". 
$67,500.00
Full Description