Displaying 1 - 2 of 2 items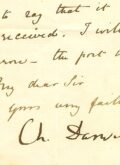 CHARLES DARWIN  ~~   "I SEND BY THE CARRIER TONIGHT A LONG PAPER  FOR THE [LINNEAN] SOCIETY"
DARWIN, CHARLES (1809-82). British scientist. Fine Manuscript Letter, Boldly Signed "Ch. Darwin" on his Down Bromley,  Kent [England] engraved stationary. One page, octavo. January 18, 1865.  Fine condition. 
$9250.00
Full Description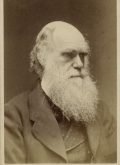 DARWIN DIRECTS THAT HARVARD PROFESSOR ASA GRAY
IS TO RECEIVE UNBOUND SHEETS OF HIS:   
ORIGIN OF SPECIES
DARWIN, CHARLES. (1809-1882). British naturalist who advanced the idea of evolution. A Superb, and apparently unpublished, Autograph Letter Signed, "Ch. Darwin."  Three pages, octavo.  "4 Chester Place, Regents Park",  "Monday", no year but circa 1860. 
$65,000.00
Full Description