Displaying 113 - 114 of 114 items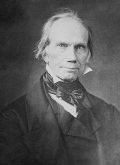 HENRY CLAY 
ON THE TARRIF OF 1824 AND OTHER TREASURY ISSUES
CLAY, HENRY.  (1777-1852).  American statesman.  Autograph Letter Signed, "H. Clay".  One full page, quarto.  Washington, January 20, 1832.
$1250.00
Full Description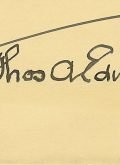 WONDERFUL SIGNED SEPIA-TONED PHOTOGRAPH OF THOMAS EDISON
EDISON, THOMAS A.  (1847-1931).   American inventor.   Handsome, sepia-toned Photograph Signed, "Thos A. Edison", with his bold umbrella paraph, under his image, on the photographic surface.
$3250.00
Full Description