Displaying 134 - 136 of 136 items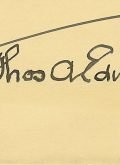 WONDERFUL SIGNED SEPIA-TONED PHOTOGRAPH OF THOMAS EDISON
EDISON, THOMAS A.  (1847-1931).   American inventor.   Handsome, sepia-toned Photograph Signed, "Thos A. Edison", with his bold umbrella paraph, under his image, on the photographic surface.
$3250.00
Full Description
OLIVER WENDELL HOLMES  — AN ATTRACTIVE ALS ON SUPREME COURT STATIONERY
HOLMES, OLIVER WENDELL. (1841-1935). American jurist, Associate Justice of the Supreme Court. Autograph Letter Signed, "O.W. Holmes," on Supreme Court of the United States, Washington, D.C.. One page, octavo. May 19, 1924
$950.00
Full Description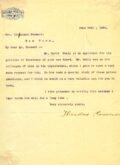 RARELY SEEN LETTER FROM THEODORE ROOSEVELT —  IN HIS CAPACITY AS N.Y.C POLICE COMMISSIONER
ROOSEVELT, THEODORE.  (1858-1919).  Twenty-sixth President of the United States (1901-9).   Uncommon Typed Letter Signed, "Theodore Roosevelt", on crested and imprinted Police Department, City of New York, President's Office letterhead.  One page, quarto.  New York, June 28, 1895. 
$2250.00
Full Description