"WE DESIRE TO FIND LADIES TO BE TRAINED AS HOSPITAL SUPERINTENDENTS FOR WHOM THERE IS AN EVER INCREASING DEMAND, WITH GOOD SALARIES, FOR HOSPITALS BOTH AT HOME, IN THE COLONIES, AND IN INDIA. THE DEMAND IS, IN FACT, FAR BEYOND OUR POWER OF SUPPLY."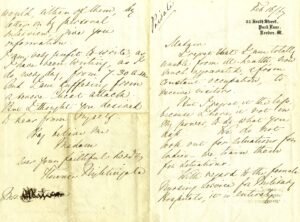 NIGHTINGALE, FLORENCE. (1820-1910). British nurse, hospital reformer, humanitarian and founder of modern nursing. Outstanding Autograph Letter Signed "Florence Nightingale" on imprinted 35 South Street, Park Lane, W. stationary. Four full pages, octavo. London, Feb. 16, 1867.  Marked "Private' with the recipient's name scratched out.  Light age toning, usual fold marks, else very fine condition.  Nightingale writes:
"Madam, I regret that I am totally unable from ill health, now much aggravated and from constant occupation, to receive visitors.  But I regret it the less, because I have it not in my power to do what you ask. We do not look out for situations for ladies; we train them for situations.  With regard to the Female Nursing Service for Military Hospitals, it is entirely under the Superintendent- General, Mrs. Shaw Stewart, now at the Herbert Hospital, Woolrich. She would give you every information you seek, either by letter or otherwise. She is extremely anxious to find superintendents, but they must  be trained. The same thing I can say for ourselves. We desire to find ladies to be trained as Hospital Superintendents for whom there is an ever increasing demand, with good salaries, for hospitals both at home, in the Colonies, and in India. The demand is, in fact, far beyond our power of supply. The Society of St. John's House experiences a similar difficulty. I enclose you some of our Regulations. Miss Jones Lady Supt. of St. John's House 7&8 Norfolk Street Strand  W.C. Mrs. Wardropen, Matron St. Thomas Hospital Newington S. Either of them, by letter or by personal interview, would give you information.  I am very unfit to write, as I hae (sic) been writing, as I do every day, from 7:30 a.m., and I am suffering from a severe chest attack. But I thought you desired to hear from myself. Pray believe me, Madam, Ever your faithful serv't.,  Florence Nightingale" 
Just outstanding content that summates Nightingale's philosophy on the goals she wish to see achieved in nursing.  A letter of some  significance, that will make a fine addition to any collection!  
$9500.00