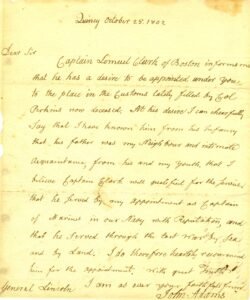 JOHN ADAMS WRITES GENERAL BENJAMIN LINCOLN SEEKING AN APPOINTMENT FOR CAPTAIN LEMUEL CLARK, WHO LEAD THE FIRST MARINES STATIONED ON BOARD THE "USS CONSTITUTION"
ADAMS, JOHN.  (1735-1826).  Second President of the United States (1797-1801), Vice President under George Washington; Signer of the Declaration of Independence;  U.S. Minister to Holland, France, and England.    Autograph Letter Signed, "John Adams".  One full page, quarto.  "Quincy", October 25, 1802.  Some chipping of paper on edges, and toning as seen, else fine condition.   To "General [Benjamin] Lincoln".  Adams writes:
"Dear Sir, Captain Lemuel Clark of Boston informs me that he has a desire to be appointed under you to the place in the Customs lately filled by Col. Perkins now deceased.  At his desire I can cheerfully say that I have known him from his infancy that his father was my neighbor and intimate acquaintance, from his and my youth, that I believe Captain Clark well qualified for the service, that he served through the last war by sea and by land.  I do therefore heartily recommend him for the appointment.  With great truth I am as ever your faithful friend   —  John Adams"   
With Thomas Jefferson's defeat of John Adams in the Presidential Election of 1800, the Federalist Party, in power since the election of George Washington twelve years earlier, found itself the opposition party for the first time. While the Federalists would never regain control of the Presidency or the Congress, they continued to be a major political power in New England and the Northeast for several years. Benjamin Lincoln, a leading Massachusetts Federalist and former Major General in the Continental Army, was appointed collector of the Port of Boston in 1789 during Washington's first year in office. For the remainder of Washington's two terms as President, and through Adams' time as Chief Executive, Lincoln remained an ardent supporter of Federalist policy, and, even after Jefferson took the oath of office, he continued to provide his support to the Federalist Party. With the Republican Party now in control, Lincoln became a target of increasingly harsh partisan attacks. By the time Adams' request that Captain Lemuel Clark, former commander of the first marines dispatched to serve on the U.S.S. Constitution, be given the newly vacant position of Inspector and Measurer of Boston, Lincoln was already finding that his political pull was steadily diminishing. Lincoln stood against these partisan attacks for seven years, before he was finally forced to resign the office of collector in 1809.
$23,500.00