Displaying 1 - 2 of 2 items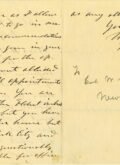 ULYSSES S. GRANT WRITES FROM WEST POINT

ABOUT THE ELIGIBILITY OF AN ACQUAINTANCE HE'S SUPPORTED FOR CIVIL APPOINTMENTS IN THE PAST, TO NOW GET A NAVAL APPOINTMENT
GRANT, ULYSSES S.  (1822-1885).  Eighteenth President of the United States (1869-1877).  Boldly penned Autograph Letter Signed, "U.S. Grant", on ruled stationery.  Three pages, octavo.  West Point, New York, July 12, 1866.
$3250.00
Full Description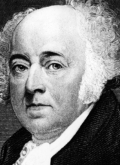 JOHN ADAMS' HIGH PRAISE FOR WEST POINT —
"I HAVE…THE HIGHEST ESTEEM FOR THE ESTABLISHMENT AT WEST POINT,  FOR ITS OFFICERS AND THE YOUNG GENTLEMEN THE CADETS"
ADAMS, JOHN.  (1735-1826).  Second President of the United States (1797-1801).  Good Manuscript Letter Signed, "John Adams".  One full page, quarto.  Boston, August 8, 1821. 
$25,000.00
Full Description