Displaying 1 - 2 of 2 items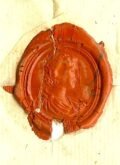 JOHN QUINCY ADAMS  ~~ 

REGRETS HE CAN NOT HELP WITH THE APPOINTMENT OF THE US COUNSUL TO BORDEAUX
ADAMS, JOHN QUINCY.  (1767-1848).  Sixth President of the United States(1825-9); Secretary of State; diplomat and lawyer. Scarce Autograph Letter Signed, "John Quincy Adams", while serving as Minister to Prussia, in his father's [John Adams'] administration.  One fairly full page, quarto.  Berlin, May 31, 1800. 
$5000.00
Full Description
CHIEF JUSTICE WILLIAM HOWARD TAFT STATES:  "I LIKE MR. [HENRY CABOT] LODGE MUCH BETTER AS A LITERARY MAN AND HISTORIAN THAN IN OTHER FIELDS."
TAFT, WILLIAM HOWARD.  (1857-1930).   27th President of the United States (1909–1913) and later the tenth Chief Justice of the United States (1921–1930); the only person to have served in both of these offices.  Attractive Autograph Letter Signed "Wm H Taft", on imprinted Supreme Court stationary, just two months after being appointed Chief Justice of the Supreme Court.  September 15, 1921.
$1250.00
Full Description