Displaying 1 - 2 of 2 items
ENRICO CARUSO  — 
FABULOUS ALBUM DETAILING CARUSO'S CONCERT IN NEW CASTLE, ENGLAND, ON SEPTEMBER 10, 1909  ~~ WITH A SIGNED PROGRAM, NUMEROUS COLOR TICKETS, LETTERS FROM HIS MANAGER ORGANIZING THE EVENT, AND PRESS CLIPPINGS SURROUNDING THE EXTRAVANGANZA
CARUSO, ENRICO (1873-1921) Acclaimed Italian tenor. Light tan cloth-bound quarto album containing a fascinating collection of memorabilia related to Caruso's September 10, 1909, concert at the Town Hall, Newcastle-on-Tyne, England.   30+ pages, quarto.
$2300.00
Full Description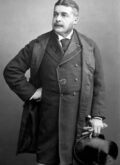 SIR ARTHUR SULLIVAN RECOMMENDS HIS GODSONS COMPANY,

WHO JUST HAPPENS TO BE THE SON OF SIR GEORGE GROVE —

THE FOUNDING EDITOR OF GROVE'S

DICTIONARY OF MUSIC AND MUSICIANS
SULLIVAN, SIR ARTHUR S.  (1842-1900).  English composer.  Autograph Letter Signed, "Arthur Sullivan".  Two pages, octavo.  "Grove House, Weybridge", July 19, no year. 
$1200.00
Full Description