Displaying 1 - 3 of 3 items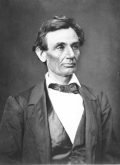 A DOCUMENT FROM LINCOLN'S DAYS ON THE ILLINOIS CIRCUIT COURT, ONCE OWNED BY BRITISH PRIME MINISTER DAVID LLOYD GEORGE
LINCOLN, ABRAHAM.  (1809-1865).  Sixteenth President of the United States (1861-1865).  Autograph Document Signed, "Lincoln & Herndon p.q."  One full page, folio. 
$17,500.00
Full Description
A LAW BOOK FROM THOMAS JEFFERSON'S LIBRARY

WITH HIS CLASSIC BOOK OWNERSHIP SIGNATURE  — 
PURCHASED BY HIM IN 1775 FROM PEYTON RANDOLPH'S ESTATE AND ALMOST CERTAINLY REVIEWED BY HIM DURING HIS WRITING OF THE DECLARATION OF INDEPENDENCE
JEFFERSON, THOMAS.  (1743-1826).  Third President of the United States (1801-1809) and author of the Declaration of Independence.  Thomas Jefferson's copy of Sir John Davies'"Le Premier Report des Cases & Matters en Ley resolves adiudges en les Cours del Roy en Ireland, DUBLIN, Printed by John Franckton Printer to the Kings most excellent Maiestie.  Anno.1615."  The first book on Irish case law.
$87,500.00
Full Description
CLARENCE DARROW –  FAMED LAWYER IN THE EARLY 20TH CENTURY FOR HIS INVOLVEMENT IN THE LEOPOLD AND LOEB MURDER TRIAL AND THE SCOPES "MONKEY" TRIAL STATES:  "SOCIALISM SEEMS DEAD….I AM CONFIDENT THAT OUR PRESENT INTOXICATION CAN NOT LAST MUCH LONGER"
DARROW, CLARENCE.  (1857-1938).  American lawyer.   Scarce Autograph Letter Signed, "Clarence Darrow", on his name-imprinted Law Offices Darrow, Smith, Cronson & Smith letterhead.  One page, oblong quarto.  "Chicago Temple Building, 77 W. Washington Street, Chicago", December 12, 1926.
$2500.00
Full Description