Displaying 1 - 3 of 3 items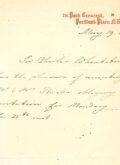 THE NOTED INVENTOR, CHARLES WHEATSTONE ACCEPTS A DINNER INVITATION
WHEATSTONE, CHARLES. (1802-1875).   Scientist and inventor; major figure in the development of electric telegraphy;  In 1843, popularized the Wheatstone bridge, [invented by British mathematician Samuel Christie] a device that accurately measured electrical resistance; patented an early telegraph. Autograph Letter Signed, in the third person: "Sir Charles Wheatstone", on his '19 Park Crescent, Parkland Place, NW' embossed stationary. One page, octavo. [London], May 19, 1868. Very fine condition.
$375.00
Full Description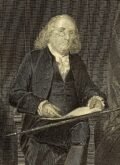 BENJAMIN FRANKLIN — 

AS PRESIDENT OF THE AMERICAN PHILOSOPHICAL SOCIETY

OVERSEES THE INDUCTION OF EDWARD PENNINGTON,

A LEADING PHILADELPHIA QUAKER MERCHANT,

WHO WILL FIND HIMSELF HELD PRISONER
DURING THE AMERICAN REVOLUTION
FOR HIS REFUSAL TO SUPPORT THE WAR AGAINST BRITAIN
FRANKLIN, BENJAMIN.  (1706-1790) Founding Father of the United States, author and printer, satirist, political theorist, politician, scientist, inventor, statesman, and diplomat.  Scarce Partially-Printed Document Signed, "B. Franklin," as President of The American Philosophical Society. One page, large oblong folio. Philadelphia. January 20, 1780. 
$37,500.00
Full Description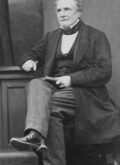 BABBAGE — THE FATHER OF THE COMPUTER  — COMPLAINS OF NOISE POLLUTION IN THE STREETS OF LONDON WHICH ROB HIM OF HIS TIME AND INTERUPT HIS WORK 
BABBAGE, CHARLES.  (1792-1871).  British mathematician and inventor of the first computer.  Scarce Autograph Letter Signed, "C. Babbage".  Two full pages, octavo.  "1 Dorset Pl., Manchester Sq. W.", March 26, 1868.
$6500.00
Full Description