Displaying 1 - 3 of 3 items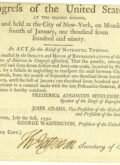 JEFFERSON SIGNS AN ACT OF THE SECOND CONGRESS
REMITTING FINES FOR THE FAILURE TO TRANSPORT THE MAILS BETWEEN CHARLESTON AND SAVANNAH
JEFFERSON, THOMAS. (1743-1826). Third President of the United States; principle author of the Declaration of Independence; Governor of Virginia; Minister to France;  and influential Founding Father of the United States. Uncommon Printed Broadside Act of the Second Congress, Boldly Signed in ink by Jefferson as Secretary of State. One page, oblong large octavo.
$15,000.00
Full Description
HENRY CABOT LODGE WRITES ABOUT A BILL COMING BEFORE CONGRESS FOR:  "THE PROPOSED INCREASE IN COMPENSATION FOR POSTAL EMPLOYEES"
LODGE, HENRY CABOT.  (1850-1924). American statesman.  Typed Letter Signed, "H.C. Lodge", on imprinted United States Senate, Committee on Foreign Relations letterhead.  One full page, quarto.  May 26, 1920.
$275.00
Full Description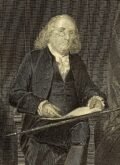 BENJAMIN FRANKLIN — 

AS PRESIDENT OF THE AMERICAN PHILOSOPHICAL SOCIETY

OVERSEES THE INDUCTION OF EDWARD PENNINGTON,

A LEADING PHILADELPHIA QUAKER MERCHANT,

WHO WILL FIND HIMSELF HELD PRISONER
DURING THE AMERICAN REVOLUTION
FOR HIS REFUSAL TO SUPPORT THE WAR AGAINST BRITAIN
FRANKLIN, BENJAMIN.  (1706-1790) Founding Father of the United States, author and printer, satirist, political theorist, politician, scientist, inventor, statesman, and diplomat.  Scarce Partially-Printed Document Signed, "B. Franklin," as President of The American Philosophical Society. One page, large oblong folio. Philadelphia. January 20, 1780. 
$37,500.00
Full Description