Displaying 1 - 3 of 3 items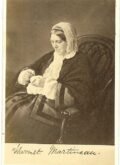 AN ATTRACTIVE CDV OF HARRIET MARTINEAU
MARTINEAU, HARRIET.  (1802-1876).  English essayist, novelist, journalist, and economic and historical writer who was prominent among English intellectuals of the 19th Century; one of the first female writers to support herself by her own talent; considered the first female sociologist; observed a link between slavery and the oppression of women's rights; considered one of the first feminists.  A CDV of Martineau depicted in old age, seated in a chair. 
$125.00
Full Description
THE ONLY PRINT PORTRAIT THAT LINCOLN IS KNOWN TO HAVE AUTOGRAPHED 
SIGNED EN ROUTE TO  HIS INAUGURATION IN 1861
ONE OF THREE KNOWN COPIES
LINCOLN, ABRAHAM.  (1809-1865).  Sixteenth President of the United States (1861-1865).  Superb and extremely rare engraved Portrait Signed,  "A. Lincoln",  on his way to his inauguration in 1861.  Lincoln is depicted in a full-faced bust pose, beardless. 
$135,000.00
Full Description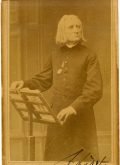 SIGNED CARTE-DE-VISITE PHOTOGRAPH OF FRANZ LISZT
LISZT, FRANZ (1811-1886).   Hungarian Romantic era composer, piano virtuoso, and teacher.  An attractive carte-de-visite Photograph, depicting Liszt in a dramatic pose, standing aside a music stand and boldly Signed,  "F. Liszt."
$6500.00
Full Description