Displaying 1 - 3 of 3 items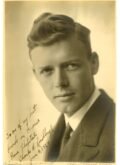 CHARLES A. LINDBERGH — LESS THAN 2 WEEKS AFTER CROSSING THE ATLANTIC, SOLO, FOR THE VERY FIRST TIME, DEDICATES A PHOTOGRAPH TO THE HOSPITAL WHERE HE WAS TAKEN FOR A CHECK UP AFTER LANDING AT LE BOURGET AERODROME JUST OUTSIDE PARIS!
LINDBERGH, CHARLES A. (1902-1874). American aviator, military officer, author, inventor, and activist; First aviator to complete a solo transatlantic flight, which he did in his plane, Spirit of St. Louis.  An absolutely Superb vintage sepia-toned, octavo Photograph Inscribed, on the photographic surface to the lower left of his image: "To one of my best / friends in France, / [the] Rene L'hopital. / Charles A. Lindbergh, / June 4, 1927".
$5750.00
Full Description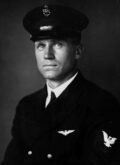 FLOYD BENNETT ~~ SIGNED AND DATED FROM THE FIRST FLIGHT TO THE NORTH POLE
BENNETT, FLOYD.  (1890-1928).  American Naval aviator; along with USN Commander Richard E. Byrd, credited with making the first flight to the North Pole in May 1926; was awarded the Medal of Honor.    Surprising scarce, Autograph Sentiment Signed.
$950.00
Full Description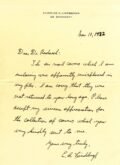 LINDBERGH RETURNS SOME AIR MAIL COVERS  —  THAT WERE SENT TO HIM EARLIER IN 1932, THE YEAR OF THE LINDBERGH BABY KIDNAPPING AND MURDER
LINDBERGH, CHARLES A.  (1902-74).  American aviator, engineer and Pulitzer Prize winner; the first person to make a nonstop solo flight across the Atlantic Ocean.  Uncommon Autograph Letter Signed, "C.A. Lindbergh", on his imprinted Charles A. Lindbergh, 39 Broadway stationery.  One page, small quarto.  New York, November 18, 1932.  Excellent condition.
$3400.00
Full Description