Displaying 1 - 2 of 2 items
A TICKET TO FLY WITH AMELIA EARHART!
EARHART, AMELIA.  (1897-1937).  American aviator.  Her Signature, "Amelia Earhart", penned on an orange 16mo ticket-card stock, that is imprinted: 'BOSTON-MAINE AIRWAYS' and entitling "Mrs Ralph Gilmore, …to take a flight in a B.M. tri-motored airliner.  A seat has been reserved for you on flight number 8 at 11:10AM.  — Amerlia Earhart Day,  Waterville Airport  /  Augut 13, 1934." 
$2300.00
Full Description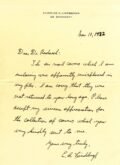 LINDBERGH RETURNS SOME AIR MAIL COVERS  —  THAT WERE SENT TO HIM EARLIER IN 1932, THE YEAR OF THE LINDBERGH BABY KIDNAPPING AND MURDER
LINDBERGH, CHARLES A.  (1902-74).  American aviator, engineer and Pulitzer Prize winner; the first person to make a nonstop solo flight across the Atlantic Ocean.  Uncommon Autograph Letter Signed, "C.A. Lindbergh", on his imprinted Charles A. Lindbergh, 39 Broadway stationery.  One page, small quarto.  New York, November 18, 1932.  Excellent condition.
$3400.00
Full Description