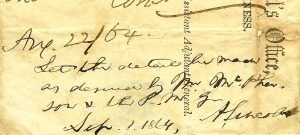 LINCOLN, ABRAHAM.  (1809-65).  Sixteenth President of the United States (1861-1865).  Fascinating Autograph Endorsement Signed, "A. Lincoln", as President, on an envelope cover imprinted Adjutant General's Office Official Business.  One full page, narrow tall octavo.  No place, September 1, 1864.  Mounted to a larger leaf, else fine condition.  The document reads:
"Capt. W.B. Coulter, Pr. Marshal 21st Pennsylvania District, has made special request that A.W. Scott be detailed to special detective service in that district—a work of much importance pending the draft.  Genl. . . .  has made an endorsement within requesting the detail, if Scott can be spared from the field.  He is temporarily disabled in the hip from active field duty; and I think the public service would be provided by his detail as requested.. . . Scott has special qualifications and fitness for these duties.  Edward McPherson.  Aug. 22/64″.
President Lincoln endorses the request:
"Let the detail be made as desired by Mr. McPherson and the P[ost] M[aster] G[eneral].  A. Lincoln".
In 1861, Pennsylvania's governor, A.G. Curtin, had complained to Lincoln's Secretary of War, E.M. Stanton, that the draft riots were causing major problems in his state. The idea of appointing Provost Marshalls to enforce the attendance of the drafted men was considered and implemented.  Although Provost Marshalls were appointed to Pennsylvania and other states, the opposition, sometimes very violent, continued.  Compounding the Pennsylvania draft riots issues were the presence of the Molly Maguires, a militant arm of a self-help group for Irish immigrants based in Pennsylvania's mining districts. In May 1864, at the request of Edward McPherson, Lincoln met with Union officers from Pennsylvania regarding a Provost Marshall for their home state. In addition to the use of the Provost Marshalls like W.B. Coulter to enforce peace, this appointment of A.W. Scott raises the possibility that a more clandestine means of enforcing the draft, and returning stability to the state of Pennsylvania may have also been embraced by the Lincoln administration.  This remarkable relic provides a new opportunity for further research into this early under-examined aspect of the intelligence community during the Civil War years.
$18,500.00