GEORGE III.  (1738-1820).  King of England, (1760-1820).  Scarce, Autograph Letter Signed, "George R", as King.   One full page, quarto.  Windsor, April 5, 1782.  Very fine condition.  To "My Lord".  A remarkably important royal statement of command, written in the form of a letter.  George writes:
"I stated to you shortly on Thursday that the M[arquess] of Rockingham had been with Me that morning, wanting to get all Patronage into his Lands to the exclusion of L[or]d Shelburne; not satisfied with the lengths he had gone, he came after you left Me and began the subject again; I said I would see how I could accommodate them both; when Ld. Shelburne was with Me he expressed an uneasiness least I should yield to the importunities of L[or]d Rockingham, which would reduce him to a Secretary of State acting under the former, instead of a Colleague; He pressed Me at the same time to state something on Paper as the only means of finally concluding this (which I fear is the real object of an English Modern Minister), and adding that he found the Marquis did not exactly remember what passed in Conversation, that therefore a Paper once drawn up would be a line to act upon and save Me continual importunities on this Subject. 

I have therefore drawn up the enclosed rough draft which it has been my object to render equally civil to both and to leave the further discussion to themselves.  I wish you would coolly examine it and make any Alterations or additions you may think likely to answer the purpose and send it tomorrow Morning to the Queen's House; I shall be in Town that day that I may see L[or]d Shelburne on the Subject.  George R".      
A fascinating letter, written at a time of parliamentary upheaval, between competing factions in the UK, while the start of final provisions were being negotiated by John Adams, Franklin, Laurens and Jay, [April 1782 in Paris] with the Crown for establishing what was to become known as The Treaty of Paris, ending the Revolutionary War, in September 1783.     
With the collapse of Lord North's ministry in 1782, the Whig Lord Rockingham became Prime Minister for the second time but died within months. The King then appointed Lord Shelburne to replace him. Charles James Fox, however, refused to serve under Shelburne, and demanded the appointment of William Cavendish-Bentinck, 3rd Duke of Portland. In 1783, the House of Commons forced Shelburne from office and his government was replaced by the Fox–North Coalition. Portland became Prime Minister, with Fox and Lord North, as Foreign Secretary and Home Secretary respectively. [Wikipedia]
So many what 'if's'? occur on reading this letter.  What was the issue between the two men that the King had to step in to moderate/dictate?  Did it involve the peace negotiations with the colonies?  What if Rockingham had lived longer?  Would the peace treaty with the Colonies have been made as quickly?  If Shelburne had not insisted as part of his acceptance of the Prime Ministership, that Peace with the colonies be negotiated, would Adams and Franklin and Jay return home empty handed?   Just a fascinating piece of history, and worthy of far greater research than we have provided.                
$8500.00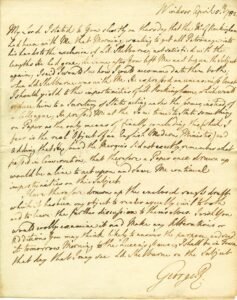 William Petty Fitzmaurice, 1st Marquess of Lansdowne, KG, PC (1737 –1805); known as The Earl of Shelburne between 1761 and 1784, by which title he is generally known to history, was an Irish-born British Whig statesman who was the first Home Secretary in 1782 and then Prime Minister in 1782–83 during the final months of the American War of Independence. He succeeded in securing peace with America and this feat remains his most notable legacy.