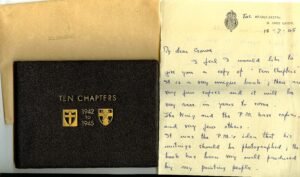 EXCEEDINGLY-RARE WORLD WAR II DATED PRESENTATION COPY OF MONTY'S: "TEN CHAPTERS 1942 TO 1945"  CONTAINING THE WAR TIME REMEMBRANCES OF SIR WINSTON CHURCHILL'S VISITS WITH HIM
MONTGOMERY, BERNARD LAW, FIRST VISCOUNT OF ALAMEIN.  (1887-1976).  British Soldier. Presentation copy of his "Ten Chapters 1942 to 1945".  First Edition. Thirty-two pages, oblong 12mo. Dark navy leatherette and gilt embossed cover.  Boldly inscribed on front free endpaper:
 "To: / my old friend of many / years: /  Edward Crowe / with all good wishes / B.L. Montgomery / Field-Marshal / Berlin / July 15, 1945."  
Accompanied by an exceptional Autograph Letter Signed, "B.L. Montgomery," on Headquarters 21 Army Group letterhead. Two pages, octavo. No place [Berlin]. July 15, 1945. Montgomery writes to Edward Crowe:
"My dear Crowe —  I feel I would like to give you a copy of "Ten Chapters" It is a very unique book; there are very few copies and it will be very rare in years to come. The King and the PM have copies, and very few others. It was the PM's idea that his writings should be photographed; the book has been very well produced by my printing people. I hope you are well. My kind regards to you all. I write from Berlin where I am attending the "Big Three" meetings. Yrs. Ever B.L. Montgomery."
Ten Chapters 1942 to 1945 contained Field Marshal Montgomery's personal record of his activities between August 1942 and May 1945. On each occasion when Churchill visited Montgomery during this period, Churchill recorded his impressions, in his own handwriting, in Montgomery's autograph book.  This book contains copies of those 'impressions'.  We can locate no other copy as having been on the market. Just a most remarkable and exceedingly rare item for the specialist in World War II material.                                           
$4500.00