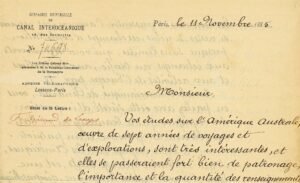 "THE BARRIER OF PANAMA IS GOING TO FALL, AS FELL THE BARRIER OF EGYPT, BECAUSE THE MOMENT HAS COME IN THE MARCH OF HUMANITY WHEN THIS OBSTACLE MAY NO LONGER REMAIN STANDING."
LESSEPS, FERDINAND de.  (1805-1894).  French diplomat and engineer; designer of the Suez Canal.  Superb Manuscript Letter Signed, "Ferd. De Lesseps", on imprinted Compagnie Universelle du Canal Interoceanique letterhead.  Four pages, quarto.  "46, Rue Caumartin, Paris", November 11, 1885.  Very fine condition.  To "Monsieur Andre Bresson, Paris".  De Lesseps writes:
"Sir, Your studies on South America, a work of seven years of voyages and explorations, are very interesting and will attract a lot of attention.  The importance and quantity of the historical, statistical, and commercial information that you have accumulated, the unpublished and complete maps you publish, the countries that  you have traversed, [and] the images that accompany your text are sure elements of appeal.  Central and South America, where you have lived, that you know, and that you describe so well and of which you have been able to judge the resources and present the future, these spaces so vast, so rich, these practically limitless fields for exploitation which are going to be open to commerce, to traffic, to the initiatives and activities of Europe by the Panama Canal—you speak of them with that surety of impression of a traveler who has seen much, seen well, and with a patriot's passion.  Your voyage to the Americas, and which embraced fifteen states, is a kind of historical, geographical, statistical, and economic encyclopedia.  You open these admirable, practically unknown countries to advancement, to the activities of approaching trade, [and] at the same time you teach the people of these heretofore neglected countries the advantages of the civilization that is going to visit them.  The barrier of Panama is going to fall as fell the barrier of Egypt, because the moment has come in the march of humanity when this obstacle may no longer remain standing.  The force by which these barriers will be overturned and which has always rendered vain impotent hostilities and oppositions, which has caused to surge the strongest support [and] the most valuable aid, which has made of the piercing of the two isthmuses national, French enterprises, it is the very goal of necessary and enlightened effort, understood by all, the people and the learned: suppress distances, bring men together.  In aiding, as you have done, the knowledge of a part of the world of which the luxuriant virginity asks only to become fecund, you have done a work of general usefulness, you instruct those of your fellow citizens who have the enterprising spirit, and you incite others by showing the future.  I thank you for having been willing to dedicate so useful a book to me.  Sincerely, The President-Director, Ferd. de Lesseps".  
    Simply superb content, and especially enlightening in terms of recent world events.
$8500.00