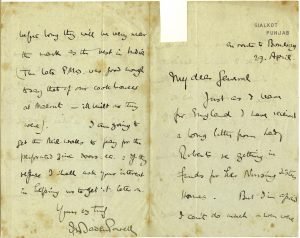 BADEN-POWELL, ROBERT.   1st BARON BADEN-POWELL (1857-1941).   Lieutenant-General in the British Army,  "Hero of The Siege of Mafeking" in South Africa during the Second Boer War from October 1899 to May 1900; writer/author,  and best remembered as the founder of the Boy Scout Movement.  Autograph Letter Signed, "R. Baden Powell," on imprinted "Sialkot, Punjab" letterhead.  Four full pages, octavo.  "On route to Bombay. [India]"  April 29, no year.  [Circa 1897/8?]  Embossed seal or logo removed/cut from the 1st page, but this loss does not affect text, or content.    Baden-Powell writes to "My dear General," in part:
"My dear General, Just as I leave for England I have received a long letter from Lady Roberts  re getting funds for her Nursing Sisters Homes. But I'm afraid I can't do much- even were I not going home; as she seems to think I am an inhabitant of Shimila, India  …  An out of the way place like Sialkot and the amount of leisure that falls to the lot of a Cavalry C.O. nowadays are not conducive to much success in working up funds. I know you did a great deal for the institution when you were out here before – and if you were inclined to take it up again I should be most glad to help in any small way that I could – When I return in Sept. I have been working away at our surface drains, latrines, and cook houses since I saw you in the train, and I think that before long they will be very near the marks as the best in India   (The last PMO was good enough to say that of our cookhouses at Meerut- ill built as they were) I am going to get the Mill-works to pay for the perferated zinc doors etc;  if they refuse I shall ask your interest in helping us  to get it later on.  Yours very  truly,  R. Baden Powell."  
Letters from this period in Baden-Powell's life rarely appear on the market.  His clear enthusiasm for India and the work he had done there is evident in this letter.    Overall, a good letter and worthy of inclusion in any collection built by his admirers, or those interested in the Boy Scout movement.
$695.00