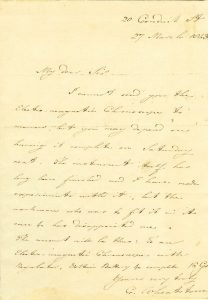 "I CAN NOT SEND YOU THE ELECTRO-MAGNETIC CHRONOSCOPE TOMORROW,
BUT YOU MAY DEPEND ON HAVING IT … "
WHEATSTONE, CHARLES. (1802-1875). Scientist and inventor, a major figure in the development of electric telegraphy. Good scientific Autograph Letter Signed, "C. Wheatstone".  One full page, octavo.  "20 Conduit St., [London], March 27, 1843″.   To" My dear Sit".  He writes:
"I can not send you the Electro-magnetic Chronoscope tomorrow, but you may depend on having it complete on Saturday next. The instrument itself has long been finished and I have made experiments with it, but the workman who was to fit it in its case has disappointed me. The account will be thus: To an Electro-magnetic Chronoscope with Regulator, Voltaic Battery be complete 16 G[uinea]s.  Yours very truly,  C. Wheatstone". 
Wheatstone introduced his Chronoscope in 1840, which was a device that measured minute intervals of time.  In this apparatus an electric current actuated an electro-magnet, which noted the instant of an occurrence by means of a pencil on a moving paper. It is said to have been capable of distinguishing measurements as small as 1/7300 part of a second.  His letters are uncommon, and any with god scientific content are very rarely seen.   An excellent scientific letter. 
$2000.00