Displaying 1 - 1 of 1 items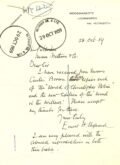 ERNEST SHEPARD, THE ILLUSTRATOR
FOR THE WINNIE THE POOH BOOKS WRITES TO PUBLISHER CURTIS BROWN: "I AM VERY PLEASED WITH THE COLORED REPRODUCTIONS IN BOTH THESE BOOKS"
AFTER RECEIVING HIS COPIES OF: 
THE WORLD OF CHRISTOPHER ROBIN AND
WIND IN THE WILLOWS
SHEPARD, ERNEST HOWARD.(1879-1976). English artist and book illustrator; best known as illustrator for A. A. Milne's Winnie-the-Pooh and Kenneth Grahame's The Wind in the Willows. Uncommon Autograph Letter Signed "Ernest H. Shepard" on his Lodsworth 212 I Woodmancote, Lodsworth, Nr Petworth stationery. One page, octavo. [London], October 28, 1959.
$895.00
Full Description