Displaying 1 - 2 of 2 items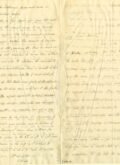 CHARLES FRANCIS ADAMS, THE GRANDSON OF JOHN ADAMS AND THE SON OF JOHN QUINCY

DETAILS HIS EUROPEAN TRAVELS AND COMMENTS

ON THE AMERICAN POLITICAL SCENE
ADAMS, CHARLES F.  (1807-1886).  American diplomat and editor, grandson of John Adams and son of John Quincy Adams;  during the American Civil War, served as United States Minister to the United Kingdom, and was crucial to Union efforts to prevent British recognition of the Confederate States and to maintain European neutrality; featured and had major roles in national and state politics before and after the Civil War.  Good Autograph Letter Signed, "C.F.A.", on blind-embossed Bath stationery.  Four very full pages, octavo.  Venice [Italy], May 23 and 24, 1868. 
$595.00
Full Description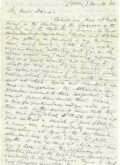 BAYARD TALYOR ~ WRITING TO THE AUTHOR

OF:  TWO YEARS BEFORE THE MAST,  

RICHARD HENRY DANA  ~ OF HIS EXTENSIVE TRAVELS IN INDIA IN 1853
TAYLOR, BAYARD.  (1825-78).  American author; the first great American travel writer.  Remarkable Autograph Letter Signed, "Bayard Taylor".  Two very full pages, large octavo.  "Capital of the Great Mogul (Delhi)", January 26, 1853.
$1650.00
Full Description