Displaying 1 - 3 of 3 items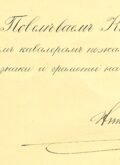 THE LAST TSAR OF RUSSIA:  NICHOLAS II, 

AWARDS MILITARY RANKS TO SEVERAL OFFICERS
NICHOLAS II.  (1868-1918). [NIKOLAI ALEXANDROVICH ROMANOV].  Last tsar of Russia under Romanov rule; executed by the Bolsheviks.  Scarce Partly-printed Document Signed, "Nilolai" as Tzar, in Russian/Cyrillic.  1 ¼ tall pages, folio.  "At Tsarskoe Selo / 8 October 1914".
$1950.00
Full Description
QUEEN ELIZABETH II  ~~  KING GEORGE VI  
DWIGHT D. EISENHOWER, WINSTON S. CHURCHILL, 

B.L. MONTGOMERY, LOUIS MONTBATTEN,

CLEMENT ATLEE, MARK CLARK, ERNEST KING,

CARL SPAATZ, JAN MASARYK,

THE ENTIRE RUSSIAN DELEGATION TO THE WORLD TRADE  UNION CONFERENCE,

AND DOZENS MORE  WWII ERA PERSONALITIES

SIGN A GUEST BOOK WHEN ATTENDING

VARIOUS CERMONIES AT OXFORD UNIVESITY
WORLD WAR II ERA PERSONALITIES.  A simply remarkable assemblage of dozens of prominent persons who have signed a guest book kept by a hotelier who ran an establishment near Oxford University in the years 1944-1948.
$32,500.00
Full Description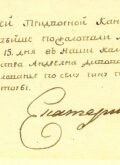 CATHERINE THE GREAT  —  PENS HER ACCEPTANCE OF THE SALARY TO BE PAID A CAVALRY GUARD OFFICER
CATHERINE II. [CATHERINE THE GREAT.] (1729-1797). Empress of Russia.  Uncommon Manuscript Document boldly Signed, 'Catherina', as Empress, in Russian.  1/3 page, legal folio, on watermarked paper bearing a crown and the letters "C.R."   "The Queen's village,  February 6, 1774."
$3750.00
Full Description