Displaying 1 - 1 of 1 items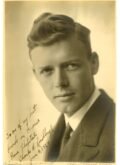 CHARLES A. LINDBERGH — LESS THAN 2 WEEKS AFTER CROSSING THE ATLANTIC, SOLO, FOR THE VERY FIRST TIME, DEDICATES A PHOTOGRAPH TO THE HOSPITAL WHERE HE WAS TAKEN FOR A CHECK UP AFTER LANDING AT LE BOURGET AERODROME JUST OUTSIDE PARIS!
LINDBERGH, CHARLES A. (1902-1874). American aviator, military officer, author, inventor, and activist; First aviator to complete a solo transatlantic flight, which he did in his plane, Spirit of St. Louis.  An absolutely Superb vintage sepia-toned, octavo Photograph Inscribed, on the photographic surface to the lower left of his image: "To one of my best / friends in France, / [the] Rene L'hopital. / Charles A. Lindbergh, / June 4, 1927".
$5750.00
Full Description