Displaying 1 - 2 of 2 items
RUTHERFORD B. HAYES  ~~ 

A FINE, AUTOGRAPH LETTER SIGNED —  ON PRISON REFORM,

A TOPIC THAT HE WAS TO PASSIONATELY EMBRACE IN

HIS POST PRESIDENTIAL YEARS
HAYES, RUTHERFORD B(IRCHARD).  (1822-93).  Nineteenth President of the United States (1877-81).  Attractive, boldly penned, Autograph Letter Signed, "Rutherford B. Hayes".  One full page, large octavo.  'Spiegel Grove, Fremont O[hio]', February 12, 1888.  Very fine condition. 
$2300.00
Full Description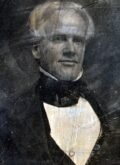 "STRIKE BUT HEAR"  —  A SCARCE LETTER FROM THE PEN OF THE AMERCIAN EDUCATIONAL REFORMER, HORACE MANN, ABOUT AN ARTICLE SUBMITTED TO HIS JOURNAL
MANN, HORACE.  (1796-1859).  American educational reformer; slavery abolitionist;  Whig politician elected to the United States House of Representatives (1848–1853);  President of Antioch College. Scarce Autograph Letter Signed, "Horace Mann".  1 ¼ pages, quarto.  West Newton, Massachusetts.  November 24, 1846.
$950.00
Full Description