Displaying 1 - 2 of 2 items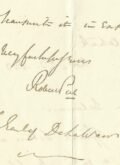 CRYPTICALLY PHRASED,  AUTOGRAPH LETTER SIGNED BY  ROBERT PEEL, WRITTEN BETWEEN HIS STINTS AS  PRIME MINISTER OF GREAT BRITIAN
PEEL, ROBERT. (1788-1850).  British statesman and twice Prime Minister (1834-5 and 1841-46). Cryptically phrased,  Autograph Letter Signed "Robert Peel". 1 ½ pages. octavo. Whitehall. November 20, 1840. To Lord De La Warr, [George Sackville-West, 5th Earl De La Warr], Lord Chamberlain, chief officer of the Royal Household, generally responsible for organizing all court functions.  Extremely-fine condition. 
$225.00
Full Description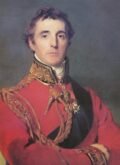 THE DUKE OF WELLINGTON REPORTS: "SUBJECTS OF GREAT IMPORTANCE WILL BE SUBMITTED FOR THE CONSIDERATION OF PARLIAMENT".
WELLESLEY, ARTHUR, 1st DUKE OF WELLINGTON (1769-1852).  British soldier and statesman. Manuscript Letter Signed "Wellington" as Leader of the House of Lords. One page, quarto. London, January 12, 1842. To George Sackville-West, 5th Earl De La Warr and Lord Chamberlain.
$950.00
Full Description