Displaying 1 - 3 of 3 items
NELSON WRITES TO ADMIRAL LORD HOOD  ~~ 
FROM ABOARD THE AGAMEMNON,
ANCHORED IN GENOA MOLE — 
HOOD HAD BEFRIENDED AND GUIDED THE YOUNG NELSON WHEN THEY BOTH SERVED IN THE CARIBBEAN YEARS BEFORE AND BOTH ACHIEVED DIFFERENT LEVELS OF SUCCESS IN THE CORSICA CAMPAIGN
NELSON, HORATIO, [VISCOUNT].  (1758-1805).  British naval commander.  Good Autograph Letter Signed, "Horatio Nelson".  Four full pages, quarto.  "Agamemnon, Genoa Mole",  September 20, 1794.  To Admiral Lord Hood.
$19,500.00
Full Description
THE GREAT BRITISH NAVAL COMMANDER, 

HORATIO NELSON 

PENS A PASS TO ALLOW THE BEARER TO SEE THE KING ON HIS VISIT TO PARLIMENT
NELSON, LORD HORATIO.  (1758-1805). Viscount; hero of naval Battle of Trafalgar. Attractive Autograph Document boldly Signed, "Nelson & Bronte." One page, oblong small octavo. 
$5750.00
Full Description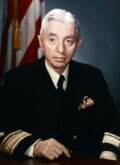 HYMAN RICKOVER, THE FATHER OF THE AMERICAN NUCLEAR NAVY ANNOUNCES THE COMPLEATION OF THE SEA TRIALS OF THE USS SIMON BOLIVAR, THE 31ST POLARIS SUBMARINE
AND GIVES A STUNNING RECOUNTING OF THE EPIC LIFE AND NATURE OF THE SOUTH AMERICAN PATRIOT!
RICKOVER, HYMAN GEORGE.  (1900-86).  United States naval officer responsible for developing the nuclear-powered submarine.  Wonderful Typed Letter Signed, "H.G. Rickover", on imprinted USS Simon Bolivar (SSBN641), Care of Fleet Post Office letterhead.  Two full pages, quarto.  "At Sea, North Atlantic", September 28, 1965.  Excellent condition.
$1650.00
Full Description