Displaying 1 - 3 of 3 items
NELSON WRITES TO ADMIRAL LORD HOOD  ~~ 
FROM ABOARD THE AGAMEMNON,
ANCHORED IN GENOA MOLE — 
HOOD HAD BEFRIENDED AND GUIDED THE YOUNG NELSON WHEN THEY BOTH SERVED IN THE CARIBBEAN YEARS BEFORE AND BOTH ACHIEVED DIFFERENT LEVELS OF SUCCESS IN THE CORSICA CAMPAIGN
NELSON, HORATIO, [VISCOUNT].  (1758-1805).  British naval commander.  Good Autograph Letter Signed, "Horatio Nelson".  Four full pages, quarto.  "Agamemnon, Genoa Mole",  September 20, 1794.  To Admiral Lord Hood.
$19,500.00
Full Description
THE GREAT BRITISH NAVAL COMMANDER, 

HORATIO NELSON 

PENS A PASS TO ALLOW THE BEARER TO SEE THE KING ON HIS VISIT TO PARLIMENT
NELSON, LORD HORATIO.  (1758-1805). Viscount; hero of naval Battle of Trafalgar. Attractive Autograph Document boldly Signed, "Nelson & Bronte." One page, oblong small octavo. 
$5750.00
Full Description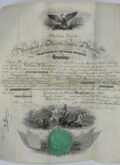 LINCOLN APPOINTS: WILLIAM BAINBRIDGE RENSHAW — A COMMANDER IN THE NAVY — AN IMPORTANT CIVIL WAR NAVAL COMISSION
LINCOLN, ABRAHAM. (1809-1865). Sixteenth President of the United States (1861-1865). Superb and important partly engraved Document Signed, "Abraham Lincoln", as President. One page, tall folio, vellum. Washington, August 5, 1861. Countersigned by GIDEON WELLS, Secretary of the Navy. President Lincoln appoints WILLIAM BAINBRIDGE RENSHAW a Commander in the United States Navy.
$14,500.00
Full Description