Displaying 1 - 2 of 2 items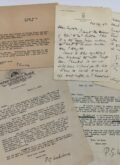 FINE ARCHIVE OF P.G. WODEHOUSE LETTERS

TO AMERCIAN HUMORIST WILL CUPPY
WODEHOUSE, SIR P[ELHAM] G[RENVILLE] (1881-1975). English writer of nearly 70 novels, numerous short stories, and musical theater; his best known and most beloved characters being: Bertie Wooster and his valet Jeeves; the immaculate and effervescently talkative Psmith; Lord Emsworth and the Blandings Castle crew; and the disaster-prone opportunist Ukridge. Wonderful and enlightening small archive of:  Five Letters Signed to American Humorist Will Cuppy, being a mixture of Typed Letters Signed, and Autograph Letters Signed.  These letters date from 1931 to 1948, and are accompanied by three letters from Ethel Wodehouse [whose letters are rarely encountered].
$6500.00
Full Description
RAYMOND CHANDLER DISCUSSES CHANGING PUBLISHERS  — 
"MYSTERY WRITES OF AMERICA… IS FUSSING ABOUT STORIES AGAIN"… "I DON'T LIKE THE CURTIS BROWN ORGANIZATION VERY WELL…NO ONE IN IT KNOWS ABOUT BOOKS OR WRITING, SO I AM THINKING ABOUT MAKING A CHANGE"
CHANDLER, RAYMOND. (1888-1959). Writer of crime fiction, and creator of the hardboiled detective Phillip Marlowe; best known for his: The Big Sleep (1939), The High Window (1942), and The Lady in The Lake (1943).  Uncommon Typed Letter Signed, "Ray," On his name imprinted 49 Carlton Hill, London, N.W. 8, Mai 4407 letterhead. One full page, quarto. February 21, 1956.
$3900.00
Full Description