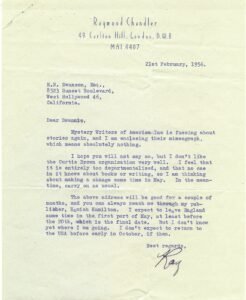 RAYMOND CHANDLER DISCUSSES CHANGING PUBLISHERS
"MYSTERY WRITERS OF AMERICA… IS FUSSING ABOUT STORIES AGAIN"… "I DON'T LIKE THE CURTIS BROWN ORGANIZATION VERY WELL…NO ONE IN IT KNOWS ABOUT BOOKS OR WRITING, SO I AM THINKING ABOUT MAKING A CHANGE"
CHANDLER, RAYMOND. (1888-1959). Writer of crime fiction, and creator of the hardboiled detective Phillip Marlowe; best known for his: The Big Sleep (1939), The High Window (1942), and The Lady in The Lake (1943).  Uncommon Typed Letter Signed, "Ray," On his name imprinted 49 Carlton Hill, London, N.W. 8, Mai 4407 letterhead. One full page, quarto. February 21, 1956. To "H.N. Swanson, Esq., 8523 Sunset Boulevard West Hollywood 46, California." Chandler writes:
"Dear Swannie,  Mystery Writers of America Inc is fussing about stories again, and I am enclosing their mimeograph, which means absolutely nothing.

I hope you will not say so, but I don't like the Curtis Brown Organization very well. I fell that it is entirely too departmentalized, and that no one in it knows about books or writing, so I am thinking about making a change some time in May. In the meantime, carry on as usual.

The above address will be good for a couple of months, and you can always reach me through my publisher, Hamish Hamilton. I expect to leave England some time in the first part of May, at least before the 20the which is the final date. But I don't know yet where I am going. I don't expect to return to the USA before early in October, if then.  Best regards,  Ray"
Raymond Chandler, best know as the creator of the hard boiled detective Phillip Marlowe, writes to his Hollywood agent H.N. Swanson. Swanson, who had begun his career as a junior producer before becoming a literary agent, had also represented F. Scott Fitzgerald and Ernest Hemingway in Hollywood. Chandler, following the devastating death of his wife Cissy in 1954 had attempted suicide in 1955 and was, to the detriment of his writing, drinking heavily at this time. A notoriously slow writer who only completed seven novels and 17 short stories over his entire career, Chandler was by this time working on his final finished novel, Payback (1958). In this letter Chandler vents his frustration concerning difficulties with the Mystery Writers of America, a group that he would become president of in 1959 and which had given him awards in1946 and 1954, and his U.K. literary agents at Curtis Brown. Chandler would return to the United States much sooner than he expected; it would be his destination when he was forced to leave the United Kingdom in May, as he notes in this letter, because of tax problems.   This letter will make a fine addition to any collection of mystery/crime writer fiction.                                                                                                                                                    
 $3900.00