Displaying 1 - 2 of 2 items
THE SIGNED HANDPRINT OF CECIL B. DEMILLE  ~~

ACKNOWLEDGED FATHER OF AMERICAN CINEMA
DeMILLE, CECIL B.  (1881–1959).  Legendary American film director, producer and actor; between 1914 and 1958, he made 70 feature films, both silent and sound; acknowledged as a founding father of the American cinema; his films are distinguished by their epic scale and by his cinematic showmanship.  His right handprint, boldly signed, "C.B. DeMille" in the right margin, aligned below his handprint. 
$995.00
Full Description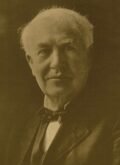 THOMAS EDISON TAKES A CRUISE WITH HIS CHIEF EXECUTIVES OF THE EDISON COMPANIES AND SIGNS THE LUNCHEON MENU
EDISON, THOMAS A. (1847-1931) American inventor of the light bulb. His bold 'umbrella' signature, "Thomas A. Edison," in pencil, on the verso of an octavo menu for an:  "Edison Jobbers Excursion on Board Steamer 'Cepheus' New York to West Point, Thursday,   July 19, 1906" luncheon. 
$1350.00
Full Description