Displaying 1 - 2 of 2 items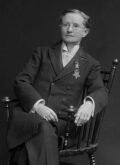 DR. MARY E. WALKER, THE ONLY WOMAN TO RECEIVE THE MEDAL OF HONOR — A FABULOUS AUTOGRAPH SENTIMENT SIGNED
WALKER, MARY E[DWARDS] DR.  (1832-1919) American feminist, abolitionist, prohibitionist, and medical surgeon; Walker is the only female to have received the Medal of Honor. Exceedingly-scarce Autograph Sentiment Signed, "Mary E. Walker M.D." in pencil.   One page, oblong 12mo.
$2000.00
Full Description
DR. BENJAMIN WATERHOUSE.    —   A VERY RARE AUTOGRAPH LETTER SIGNED  FROM THE PIONEER OF VACCINATION IN THE UNITED STATES    —  HE HELPED ERADICATE SMALL POX 
WATERHOUSE, BENJAMIN.  (1754-1846).  American physician;  co-founder and professor of Harvard Medical School; known for being the first doctor to test the smallpox vaccine in the United States, which he carried out on his own family.   Very rare Autograph Letter Signed, "Benjn. Waterhouse".  One full page, quarto.  Cambridge, January 5, 1799.  Very fine condition.
$4500.00
Full Description