Displaying 1 - 2 of 2 items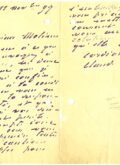 CLAUDE MONET AGREES TO SEND TWO PAINTINGS TO LONDON FOR A POSSIBLE SALE OR EXHIBITION
MONET, CLAUDE.  (1840-1926).  French artist; leading figure in the impressionist movement; the term 'Impressionism' is derived from the title of his painting Impression Sunrise.   Good Autograph Letter Signed, "Claude Monet", in French, on his embossed Giverny Par Vernon Eure stationery.
$4500.00
Full Description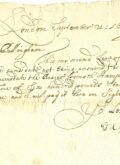 A 17TH CENTURY LETTER OF CREDIT WITH GOOD NUMISMATIC OVERTONES
VYNER, SIR THOMAS. 1ST BARONET (1588–1665).  Wealthy English businessman and politician who served as the Lord Mayor of London; James I appointed Vyner to the office of comptroller of the mint; under Oliver Cromwell, Vyner and a partner purchased a large quantity of Spanish bullion to be converted into coins for both the English government and the East India Company; in 1656, he became the Lord Mayor of London and was knighted by Cromwell.  Exceedingly-rare Autograph Letter Signed, "Thos. Vyner". 1/3 page, legal folio.  London, September 1, 1653.
$1250.00
Full Description