Displaying 1 - 2 of 2 items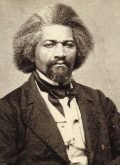 FREDERICK DOUGLASS SIGNED DOCUMENT
DOUGLASS, FREDERICK (1818-1895)  American abolitionist, editor, orator, author and statesman.  Partly-printed Document Signed  "Fredk Douglass,"  in ink, on the docketing panel of a 3 page "Deed" for a land transfer, between Joseph C. Hornblower and James M. Johnston, in his capacity as Recorder of Deeds for the District of Columbia.
$1500.00
Full Description
THEODORE ROOSEVELT

ON RACE RELATIONS

: "I HAVE APPOINTED A LARGER PERCENTAGE OF COLORED MEN THAN ANY OTHER PRESIDENT."
ROOSEVELT, THEODORE. (1858-1919).  26th President (1901-1909), and first American to be awarded the Nobel Peace Prize (1906). Exceptional Typed Letter Signed "Theodore Roosevelt," as President, on imprinted The White House /Washington stationary. One full page, quarto.
$20,000.00
Full Description