Displaying 1 - 2 of 2 items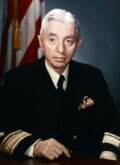 HYMAN RICKOVER, THE FATHER OF THE AMERICAN NUCLEAR NAVY ANNOUNCES THE COMPLEATION OF THE SEA TRIALS OF THE USS SIMON BOLIVAR, THE 31ST POLARIS SUBMARINE
AND GIVES A STUNNING RECOUNTING OF THE EPIC LIFE AND NATURE OF THE SOUTH AMERICAN PATRIOT!
RICKOVER, HYMAN GEORGE.  (1900-86).  United States naval officer responsible for developing the nuclear-powered submarine.  Wonderful Typed Letter Signed, "H.G. Rickover", on imprinted USS Simon Bolivar (SSBN641), Care of Fleet Post Office letterhead.  Two full pages, quarto.  "At Sea, North Atlantic", September 28, 1965.  Excellent condition.
$1650.00
Full Description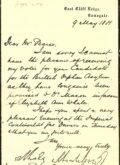 SCARCE LETTER OF SIR MOSES MONTEFIORE,  — THE BRITISH-JEWISH PHILANTHROPIST
MONTEFIORE, SIR MOSES.  (1784-1885).  British philanthropist, banker and financier of Italian-Jewish lineage; his promotion of industry and economic development in the Levant, and his relations with the British consul in Damascus, Charles Henry Churchill, was pivotal to the development of Proto-Zionism.     Scarce Manuscript Letter Signed, "Moses Montefiore", on his imprinted East Cliff Lodge, Ramsgate black-bordered mourning stationery.  One full page, octavo.  Ramsgate, May 9, 1881.
$1650.00
Full Description