Displaying 1 - 2 of 2 items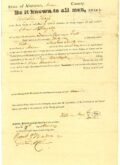 ANDREW JACKSON AND THE BEGINNING OF:  "THE TRAIL OF TEARS" 
A REMARKABLE TESTAMENT APPROVING THE SALE OF CREEK INDIAN LAND TO A NOTORIOUS SPECULATOR, KNOWN FOR HIS SWINDLING NATIVE AMERICAN'S OUT OF THEIR LANDS
JACKSON, ANDREW. (1767-1845) 7th President of the United States; led troops during the 'Creek War' of 1813-14, winning the 'Battle of Horseshoe Bend' and subsequently enforcing the 'Treaty of Fort Jackson' which required the Creek surrender of vast lands in present day Georgia and Alabama; won the 'Battle of New Orleans' against the British in 1815; and led U.S. forces in the First Seminole War, which led to the annexation of Florida.  Exceedingly-rare, "Creek Nation of Indiana in the State of Alabama" headed Partly-printed Document, Boldly Signed, "Approved May 30th 1834 / Andrew Jackson".
$22,500.00
Full Description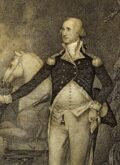 GEORGE WASHINGTON   —  AS COMMANDER-IN-CHIEF OF THE AMERICAN REVOLUTIONERY ARMY DECLARES:
"I HAVE TURNED MY THOUGHTS … TOWARDS CARRYING ON AN EXPEDITION AGAINST
THE INDIANS OF THE SIX NATIONS …."
"THE KIND OF WAR NECESSARY TO BE CARRIED ON AGAINST THE SAVAGES FOR THE MORE EFFECTUAL SECURITY OF OUR FRONTIER".
WASHINGTON, GEORGE.  (1732-1799).  First President of the United States (1789-1797).  Exceptional War-dated, Manuscript Letter Signed, "G. Washington", as Commander of the Continental forces. "Headquarters, Middle Brook, March 2, 1779."  Two full legal folio pages, [in the hand of Tench Tilghman].   To Brigadier General Porter. 
$225,000.00
Full Description