Displaying 1 - 2 of 2 items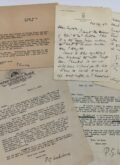 FINE ARCHIVE OF P.G. WODEHOUSE LETTERS

TO AMERCIAN HUMORIST WILL CUPPY
WODEHOUSE, SIR P[ELHAM] G[RENVILLE] (1881-1975). English writer of nearly 70 novels, numerous short stories, and musical theater; his best known and most beloved characters being: Bertie Wooster and his valet Jeeves; the immaculate and effervescently talkative Psmith; Lord Emsworth and the Blandings Castle crew; and the disaster-prone opportunist Ukridge. Wonderful and enlightening small archive of:  Five Letters Signed to American Humorist Will Cuppy, being a mixture of Typed Letters Signed, and Autograph Letters Signed.  These letters date from 1931 to 1948, and are accompanied by three letters from Ethel Wodehouse [whose letters are rarely encountered].
$6500.00
Full Description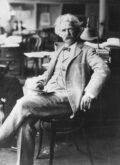 MARK TWAIN GIVES ADVICE ON JUDICIAL SELECTION:   "…HAVE A LAWYER WHOSE FACE AND MANNER ARE NOT A FATAL INFLUENCE

WITH JUDGE AND JURY."
CLEMENS, SAMUEL L. [MARK TWAIN].  (1835-1910.)  American humorist, lecturer and writer.  Humorous Autograph Letter Signed, "S.L.C."  One full page, octavo.  No date, no place.  One spot of toning,  else very fine condition.  To "Dear Mr. Hall".
$4300.00
Full Description