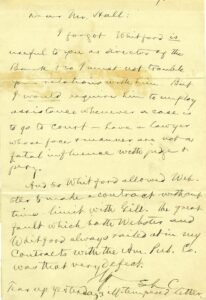 MARK TWAIN GIVES ADVICE ON JUDICIAL SELECTION:   "…HAVE A LAWYER WHOSE FACE AND MANNER ARE NOT A FATAL INFLUENCE WITH JUDGE AND JURY."
CLEMENS, SAMUEL L. [MARK TWAIN].  (1835-1910.)  American humorist, lecturer and writer.  Humorous Autograph Letter Signed, "S.L.C."  One full page, octavo.  No date, no place.  One spot of toning,  else very fine condition.  To "Dear Mr. Hall".  Clemens writes:
"I forgot Whitford is useful to you as director of the Bank, and so I must not trouble your relations with him.  But I would require him to employ assistance whenever a case is to go to court  —  have a lawyer whose face and manner are not a fatal influence with judge and jury.  And so Whitford allowed Webster to make a contract without time limit with Gill.  The great fault which both Webster and Whitford always railed at in my contracts with the Am. Pub. Co. was that very defect.  Yours, S.L.C. 

[P.S.] Tear up yesterday's ill-tempered letter".     
A choice letter, holding a choice tidbit of Twain observational humor on the basics of how to win in court!  A fine gift for your favorite lawyer or Supreme Court Justice!  
$4300.00