Displaying 1 - 1 of 1 items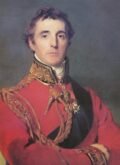 THE DUKE OF WELLINGTON REPORTS: "SUBJECTS OF GREAT IMPORTANCE WILL BE SUBMITTED FOR THE CONSIDERATION OF PARLIAMENT".
WELLESLEY, ARTHUR, 1st DUKE OF WELLINGTON (1769-1852).  British soldier and statesman. Manuscript Letter Signed "Wellington" as Leader of the House of Lords. One page, quarto. London, January 12, 1842. To George Sackville-West, 5th Earl De La Warr and Lord Chamberlain.
$950.00
Full Description