Displaying 1 - 2 of 2 items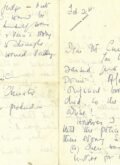 AGATHA CHRISTIE ADAPTS HER NOVEL ORGINALLY PUBLISHED IN 1939 BY
'THE CRIME CLUB' AS: TEN LITTLE NIGGERS,
AND SUBSEQUENTLY RENAMED:
AND THEN THERE WERE NONE, FOR THE STAGE 
~~  BUT CURIOUSLY THIS BOOK ALSO APPEARED TITLED AS: 'TEN LITTLE INDIANS' IN AMERICA
CHRISTIE, DAME AGATHA.  (1890-1976).  English writer of mystery novels. Important Autograph Letter Signed, "Agatha Christie," on her imprinted Greenway House stationery. Four full pages, octavo. "Churston Ferrers, South Devon," February 21, no year.
$8500.00
Full Description
RAYMOND CHANDLER DISCUSSES CHANGING PUBLISHERS  — 
"MYSTERY WRITES OF AMERICA… IS FUSSING ABOUT STORIES AGAIN"… "I DON'T LIKE THE CURTIS BROWN ORGANIZATION VERY WELL…NO ONE IN IT KNOWS ABOUT BOOKS OR WRITING, SO I AM THINKING ABOUT MAKING A CHANGE"
CHANDLER, RAYMOND. (1888-1959). Writer of crime fiction, and creator of the hardboiled detective Phillip Marlowe; best known for his: The Big Sleep (1939), The High Window (1942), and The Lady in The Lake (1943).  Uncommon Typed Letter Signed, "Ray," On his name imprinted 49 Carlton Hill, London, N.W. 8, Mai 4407 letterhead. One full page, quarto. February 21, 1956.
$3900.00
Full Description