Displaying 1 - 3 of 3 items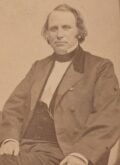 "I HAVE MADE MORE SPEECHES FOR OUR IDEAS OF EQUAL RIGHTS IN MORE STATES AND TO MORE PEOPLE THAN ANY MAN IN THIS COUNTRY"  –  HENRY WILSON
WILSON, HENRY (1812-1875).  Vice President of the United States under U.S. Grant, and a Senator from Massachusetts known for his strong anti-slavery positions; devoted himself to the destruction of 'Slave Power' [the political power of the slave-owning class]; authored a bill that outlawed slavery in Washington, D.C. and was responsible for incorporating African Americans in the Union Civil War effort.  Superb Autograph Letter Signed, "H. Wilson." Four very full pages, quarto. Natick, [Massachusetts].  October 7, 1870.
$1750.00
Full Description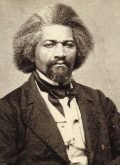 FREDERICK DOUGLASS SIGNED DOCUMENT
DOUGLASS, FREDERICK (1818-1895)  American abolitionist, editor, orator, author and statesman.  Partly-printed Document Signed  "Fredk Douglass,"  in ink, on the docketing panel of a 3 page "Deed" for a land transfer, between Joseph C. Hornblower and James M. Johnston, in his capacity as Recorder of Deeds for the District of Columbia.
$1500.00
Full Description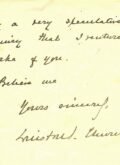 CHURCHILL TO LORD CECIL   ~~  PLANNING THE FUTURE COURSE OF ENGLAND'S AFRICAN COLONIES  —   "[YOU] WOULD BE THE BEST PERSON TO FILL THE GOVERNORSHIP OF BRITISH EAST AFRICA … A VAST NATIVE POPULATION, OF A CONSIDERABLE ASIATIC INFUSION, & OF A SMALL, BUT ALREADY POWERFUL COLONY OF SETTLERS … [WITH] GREAT POSSIBILITIES."
CHURCHILL, WINSTON, S. (1874-1965). Prime Minister. Significant Autograph Letter Signed "Winston S. Churchill", as President of the Board of Trade. 3 ½,  octavo pages on blindstamped "Colonial Office" seal embossed stationary, February 28, 1908.  Marked 'Secret' in Churchill's hand at top. To Lord Robert Cecil, inquiring of him privately if he is interested in the Governorship of British East Africa, now Kenya. 
$23,500.00
Full Description