Displaying 1 - 2 of 2 items
THE HOLY GRAIL FOR ALL CHARLES DICKENS COLLECTORS!  ~~ 
A SIGNED AUTOGRAPH QUOTATION FROM "A CHRISTMAS CAROL".
"AND SO, AS TINY TIM OBSERVED, GOD BLESS US EVERY ONE!"   
WITH A LETTER OF TRANSMITTAL FROM WILKIE COLLINS
Simply superb Autograph Quotation Signed, "Charles Dickens", being the most famous quotation from his timeless Christmas classic:  A Christmas Carol,  penned on his  imprinted Gad's Hill Place, Higham by Rochester, Kent stationery, with a bold paraph under his name.  One page, small square octavo.  [approx. 4 1/5 x 5 inches]. "Saturday, 13th February 1869". 
$75,000.00
Full Description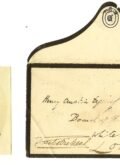 CHARLES DICKENS ~~ HIS SIGNED AND ADDRESSED MONOGRAMMED BLACK-BORDERED MOURNING ENVELOPE
DICKENS, CHARLES. (1812-1870). English novelist. His free-franking signature, Charles Dickens , on the front of his monogrammed black-bordered mourning envelope. [approx 3 ½ x 5 inches]. Addressed in Dickens hand to Henry Austin Esquire, Board of Health, Whitehall, London.
$1500.00
Full Description