Displaying 1 - 2 of 2 items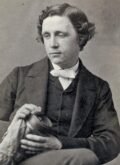 THE AUTHOR OF:  ALICE IN WONDERLAND
"CHRISTIANITY IS NOT ONLY A REALITY, BUT THE REALITY OF LIFE…. C.L. DODGSON" 
DODGSON, CHARLES L.  [LEWIS CARROLL].  (1832-1898). English logician, mathematician, photographer, and novelist, especially remembered for Alice's Adventures in Wonderland (1865) and its sequel, Through the Looking-Glass (1871).  Revealing Autograph Letter Signed, "C.L. Dodgson".  Four full pages, small octavo.  "Ch[rist] Ch[urch]"  Oxford, England.   March 18, 1894.
$12,500.00
Full Description
ALBERT EINSTEIN AND THOMAS MANN  — COME TOGETHER TO RAISE FUNDS FOR REFUGEES FLEEING FROM EUROPE IN 1938
"IN OUR TIME, IT BECOMES PARTICULARLY CLEAR THAT HUMANITY AND READINESS TO SERVE MEAN MORE TO SOCIETY THAN ALL WISDOM AND TECHNICAL PROGRESS.  THE POSSESSION OF POWER AS A TOOL IS LESS DECISIVE THAN THE DIRECTED IDEA IN WHICH IT IS USED."
EINSTEIN, ALBERT.  (1879-1955) Theoretical Physicist. [and] MANN, THOMAS (1875-1955) German novelist, short story writer, and Nobel laureate.  An exceedingly-rare specially bound booklet entitled:  "g-o-i-n-g, G-O-I-N-G, GONE! Rare Book Auction", being a listing of collectable books and autographs gathered to be sold for the cause.    Signed by each author at the conclusion of their remarks.
$22,500.00
Full Description