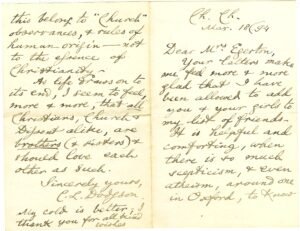 THE AUTHOR OF ALICE IN WONDERLAND, LAMENTS:
"IT IS HELPFUL AND COMFORTING, WHEN THERE IS SO MUCH SKEPTICISM, AND EVEN ATHEISM, AROUND ONE IN OXFORD, TO KNOW THOSE TO WHOM CHRISTIANITY IS NOT ONLY A REALITY, BUT THE REALITY OF LIFE."
DODGSON, CHARLES L.  [LEWIS CARROLL].  (1832-1898). English logician, mathematician, photographer, and novelist, especially remembered for Alice's Adventures in Wonderland (1865) and its sequel, Through the Looking-Glass (1871).  Revealing Autograph Letter Signed, "C.L. Dodgson".  Four full pages, small octavo.  "Ch[rist] Ch[urch]".  Oxford, England.  March 18, 1894.  Very fine condition.  To "My dear Mrs. Egerton".  Dodgson writes:
"Your letters make me feel more and more glad that I have been allowed to add you and your girls to my list of friends. 

It is helpful and comforting, when there is so much skepticism, and even atheism, around one in Oxford, to know those to whom Christianity is not only a reality, but the reality of life.   I shall like to come and have some chats with you.

You ask if I think it 'right' to make a rule not to see Pantomimes in Lent.  Surely, in one sense of the word.  But the word is used in two senses (as of course you know): (1) a thing which it is wrong not to do; (2) a thing which it is not wrong to do (and also not wrong not to do).  The first sense means 'it is a duty'; the second 'it is allowable'.  – I think it 'right' in the second sense of the word:  but I need not say that, if I thought it 'right' in the first sense, I would not go myself.  But questions like this belong to the 'Church' observances, and rules of human origin – not to the essence of Christianity. –

As life draws on to its end, I seem to feel, more and more, that all Christians, Church, and Dissent alike, are brothers (and sisters) and should love each other as such.   Sincerely yours,  C.L. Dodgson.  

My cold is better, I thank you for your kind wishes."
A most interesting letter from Dodgson's pen.  Letters where the author reflects or comments on their own personal religious beliefs rarely make it to market.  In this letter, Carroll clearly approaches the topic with the mind of a mathematician and the beliefs of a theologian.
$12,500.00
Wikipedia adds some information which further reveals important background information to the possible contradictions expressed in Dodgson's own position.  They state: Charles's father was an active and highly conservative cleric of the Church of England who later became the Archdeacon of Richmond and involved himself, sometimes influentially, in the intense religious disputes that were dividing the church. He was high church, inclining toward Anglo-Catholicism, an admirer of John Henry Newman and the Tractarian movement, and did his best to instill such views in his children. Young Charles was to develop an ambivalent relationship with his father's values and with the Church of England as a whole.
The British definition of Pantomimes is: a theatrical entertainment, mainly for children, that involves music, topical jokes, and slapstick comedy and is based on a fairy tale or nursery story, usually produced around Christmas.