Displaying 1 - 2 of 2 items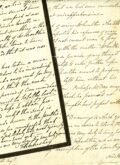 "AS COMMANDER OF THE EXPEDITION, 

IT WAS MY DUTY TO BRING FORWARD THE WORK OF THE OFFICERS COMPOSING THE EXPEDITION,

NOT AS WORKS OF ART SUCH AS YOURS, BUT AS BEING DESCRIPTIVE OF THE COUNTRY…"
CHESNEY, FRANCIS RAWDON .  (1789-1872).  British General, soldier and explorer of the Euphrates River whose expedition proved the practicability of the Euphrates route to India.  Two, relatively rare, Autograph Letters Signed, "F.R. Chesney".  Four full pages total, quarto.
$2750.00
Full Description
GENERAL CHENNAULT, 

OF "FLYING TIGERS' FAME,  WRITING FROM TAIWAN,

RECALLS HIS PREDICTIONS ABOUT RED CHINESE INVOLVEMENT IN THE KOREAN WAR
CHENNAULT, CLAIRE LEE.  (1890-1958).  American Army officer;  best known for his leadership of the "Flying Tigers" and the Republic of China Air Force in World War II. Typed Letter Signed, "C.L. Chennault", on his name-imprinted "The Orient's Own" CAT Civil Air Transport letterhead.  One page, quarto.  Taipei, Taiwan, February 24, 1953.
$1650.00
Full Description